Testing:
The tests to be executed include two synthetic benchmarks, four benchmarks included with 3D games, a look at the Windows 7 Experience, thermal testing, and some power consumption testing. Each card was run through the following tests, and the system was rebooted between each run.
» FutureMark 3DMark Vantage
» SiSoftware Sandra Rendering
» Crysis (DirectX 10)
» World in Conflict (DirectX 10)
» Resident Evil 5 (DirectX 10)
» Company of Heroes (DirectX 10)
» Windows 7 Experience
» Thermal Testing
» Power Consumption Testing
All tests were conducted in the 64-Bit version of Windows 7 Pro (RTM) with the Windows 7 drivers provided in the box.
For testing purposes the HD5750 cards will be tested alone and in CrossFire, and for a point of reference they will do battle with a 1GB Radeon HD4890 card. In general I like to use more cards, but with a new set of drivers, a new operating system, and a quick turn around expected on this review, that wasn't an option. These configurations will continue to be referenced in upcoming reviews, so keep an eye out for more comparisons in the future.
FutureMark 3DMark Vantage:
FutureMark
's 3DMark Vantage was the first benchmark to be executed, and it was run in two different modes. The complete suite of tests was first executed in "Performance" mode, which uses a 1280x1024 resolution. We'll take a look at just the GPU and Total scores, and higher values are better for both.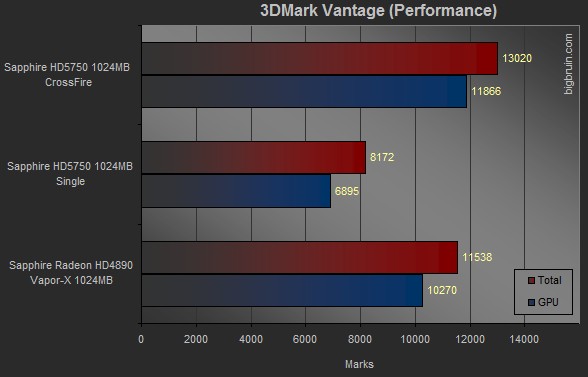 A single HD 5750 puts up scores about what I would expect... decent for a mid-level card, but not great. But, put two of these things together and you get quite a boost.
3DMark Vantage was run a second time on each configuration, this time in "High" mode which uses a 1680x1050 resolution. If you remove the actual values from the charts you might think they represented the same test. The trend is nearly the same, with a CrossFire combo really putting up nice numbers.