Installation and Operation:
A system with the following components was used for this review:
» Intel Core i7 920 quad core processor
» Gigabyte GA-EX58-UD3R LGA 1366 X58 ATX motherboard (BIOS F6)
» G.Skill 6GB PC3-12800 DDR3 triple channel memory (1600MHz, 9-9-9-24)
» Maxtor MaxLine III 250GB SATA 3Gbps hard drive
» TSST Super WriteMaster optical drive
» Nesteq EECS 700 Watt power supply
» Windows 7 Pro 64-Bit operating system
The screenshot below provides details regarding the Sapphire Radeon HD5750 1GB graphics card as provided by Techpowerup.com's
GPU-Z
and the Catalyst Control Center's Overdrive tab.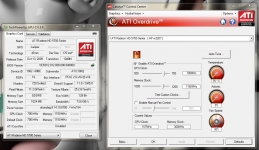 The drivers used for testing this card were the ones found on the CD provided in the box. One thing we see in the information provided above is that the card can throttle back greatly for light 2D duty. Dropping from 700MHz/1150MHz down to 157MHz/300MHz (GPU/Memory).
Another part of the installation was to involve installing the 'included' game. This wasn't as straight forward as I expected. As mentioned, you receive a certificate to download the game, but you must do so through Steam. While I do have a Steam account, it wasn't setup on the test system, so I had to complete that step, first. Those without an account will have to create one (don't worry, it's free). Then once I had all of that done I completed the process of claiming my free copy of Dirt-2 only to be told the game was not available yet. The screenshot below shows about as far as I got with enjoying the game included with this card!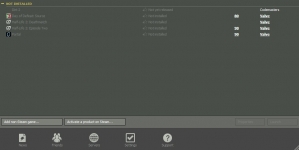 In operation the card was very quiet. While it did 'surge' at one point, it was more like a slight whoosh than any of the screaming / roaring fans some people may be familiar with. I only noticed because the system went from near silence to a whispered hush, which isn't bad considering there is no case around it.
As mentioned at the beginning of the review, we'll not only be testing the card on its own, but paired up with an identical card configured in CrossFire. Lower end cards aren't always the best bet when seeking CrossFireX performance, but perhaps you have the money for one now, and in a few months you can pick a second one up for a discounted price... It isn't such a bad idea then. The image below provides a glimpse at this setup. While I was concerned that the thickness of the cooler would leave minimal room between cards, they fit rather nicely. (They may look crooked, but that is only because there is no case to hold them upright).