Packaging and Accessories:
The packaging for the 1GB HD5750 is shown below, and right away we find the obligatory image of a scantily clad female packing heat.


The front and back of the box also provide highlights on the card's features, specifications, new technologies, and what is included in the box. And in case you missed the big sticker on the front, you actually get a game (Colon McRae's Dirt-2) with this card. I had been anticipating this game, so initially I was pretty pleased to see it included.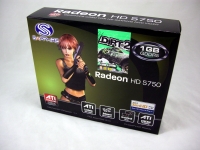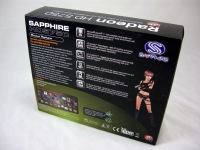 Taking a closer look at one corner of the back of the box finds an image of the Bigbruin.com "Highly Recommended" award among some of the other awards that Sapphire cards have won over the years. Pretty cool!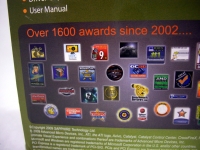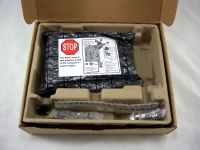 In the above right image we see how the contents are packed in the box. Rather basic, eco-friendly packaging that keeps things in place without too much waste.
In the images below we see all the accessories included with the card. There is a user's manual, a certificate to claim your download of Dirt-2, a driver CD, a copy of ArcSoft SimHD, a 4-pin to 6-pin PCI-E power adapter, a CrossFire bridge, and a DVI to VGA adapter.