Conclusion:
Where to begin? The
Sapphire
Radeon HD5750 1GB graphics card does a lot of things better than you might expect from a 'mid-level' card. This isn't a top of the line gaming card, but it is does offer enough muscle to make games enjoyable even with the settings turned up pretty high. And like I said earlier, going CrossFire with a pair of these cards might not be the most economical option, but it could make sense if you had the money for one now and then were able to pick one up a few months from now at a discount.


On top of the performance, it ran cool, quiet, and didn't tax the electric meter much at all. In addition to being a good choice for a budget conscious gaming rig, these attributes make it appealing for an HTPC. The compact size of the card helps matters here too, as it is more likely to fit into a small form factor case than some of the long cards on the market. With an HDMI port out back with the DisplayPort and dual DL-DVI ports, and you should be able to get connected to any monitor or home theater with ease.
Searching the Internet finds that these cards are already available at popular online retailers like
Newegg.com
, where the price is about $135 (US). Not bad, not bad at all.
Considering all the positive points the Sapphire Radeon HD5750 1GB graphics card has going for it, it earns the Bigbruin.com "Recommended" award. And considering it does all of this for $135, it has to reel in a "Good Value" award as well.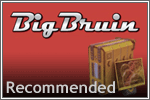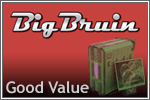 Pros:
» Decent mid-level gaming performance
» Energy efficient
» Runs cool and quiet
» Compact card will fit in smaller cases
» Nice combination of connections out back: 2x DVI, 1x HDMI, 1x DisplayPort
» Priced at about $135 (US)
» ATI Eyefinity Technology - cool if you have a handful of monitors
» Has the Bigbruin.com logo on the box
Cons:
» 'Included' game isn't out yet, and you have to have a Steam account to get it
» Hopefully DirectX 11 gets moving quicker than DirectX 10 did
Please drop by the Bigbruin.com Forum and feel free to post any
comments or questions
.