Conclusion:
Sapphire
's Radeon HD5670 offers a budget friendly introduction to some of the new features first made available on the higher end HD5000 series of cards. While it doesn't do anything to really "wow" you, it does provide a compact, low noise solution that would let you experience things like DirectX 11 and Eyefinity in a more modestly priced desktop or HTPC system.


Connectivity is well covered on this HD5670, as Sapphire has included onboard DisplayPort, HDMI, and DL-DVI connections, and adapters to use a second DVI monitor or even a VGA monitor. Another key point is that there is no extra power required. Don't worry about your power supply having PCI Express connections, as this card takes all the power it needs directly from the PCI Express x16 slot.
Online retailers like
Newegg.com
have the Sapphire Radeon HD5670 1GB graphics card in stock for about $115 (US). If you are looking at this card for the interesting features that AMD is now making available to lower end cards, it may be an appealing price. But, if you are simply shopping for a gaming graphics card in this price range, there are better cards available.
The Bigbruin.com "Whisper Quiet" award seems well suited for a video card that runs as cool and as quiet as the Sapphire Radeon HD5670.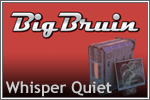 Pros:
» Features like Eyefinity, DirectX 11, GDDR5 memory brought down to the mainstream
» Compact size means it could fit in a wide variety of systems
» Low power consumption
» No PCI Express power connection required
» Runs cool and quiet
» Good choice for an HTPC
Cons:
» Performance is not very appealing for gaming
» If all the new features weren't necessary, you could get a better card for the money
Please drop by the Bigbruin.com Forum and feel free to post any
comments or questions
.