Testing (continued):
The final two tests were not executed while overclocked.
Thermal Testing:
Thermal testing for this review involved monitoring the various GPU temperatures by running GPU-Z with logging enabled. The idle condition was established by recording the temperature after letting the system sit at the Windows desktop for at least 30 minutes with only GPU-Z running. The load condition was established by running 3DMark Vantage two times back-to-back, followed by two back-to-back sessions of the Devil May Cry benchmark. GPU-Z is capable of logging current, minimum, and maximum temperature, so once all testing was completed, the maximum temperature was recorded. All testing was completed on an open testbed with relatively still air in a room with an ambient temperature of 21C.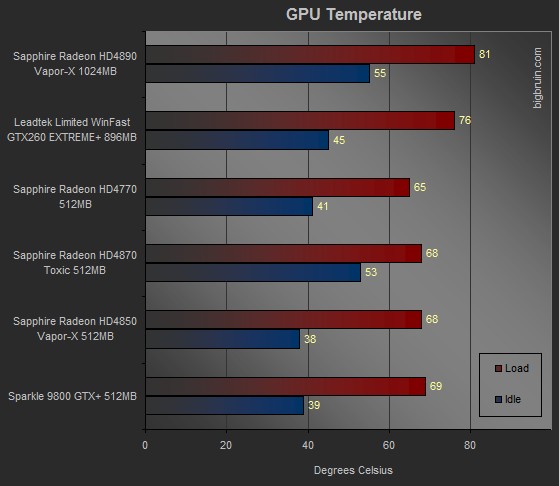 One thing the Vapor-X Radeon HD4890 has going for it is that it is extremely quiet at all times. The fan is programmed to ramp up at 85C, and it never quite got there. That said, 81C is still pretty hot (in my opinion), and lowering the setpoint to 80C or 75C might not be a bad idea.
Power Consumption Testing:
Power consumption testing consisted of using a Seasonic Power Angel to monitor the AC Wattage drawn by the test system with each video card installed. Since all other hardware remained the same, any change in the Wattage would be the result of the graphics card's demands. Idle conditions were established by letting the system sit at the Windows desktop until a stable reading was achieved, and for load testing the Devil May Cry benchmark was executed. Peak values were recorded from the Power Angel's display and recorded in the chart below.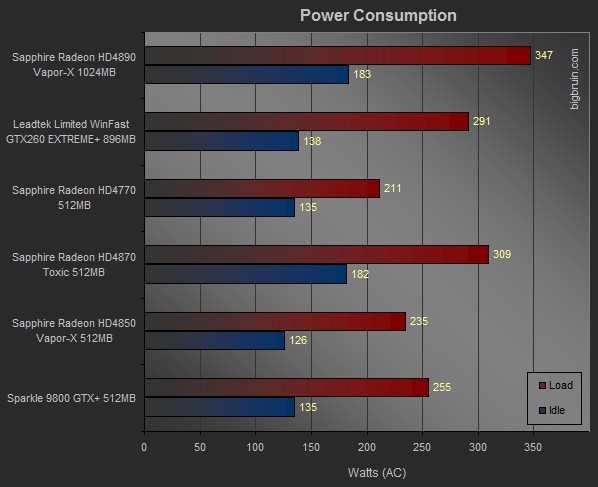 With all the references to energy efficiency on the Sapphire website page for this card, I have to say I was surprised by the values I saw. 347W is quite high, and comparing the delta from idle to load it is comparable to some dual GPU cards I have tried out. Imagine the power (electrically and performance wise) from a CrossFire setup of a few of these cards!