Testing (continued):
Company of Heroes:
With a resolution of 1680x1050 and with high settings, the DirectX 9 benchmark included with Company of Heroes - Opposing Fronts was executed on the cards. The benchmark provides results in terms of a minimum, maximum, and average frame rate value, and higher is better for all three. Again we see a huge spike in the performance of the GTX260, which has to be PhysX related.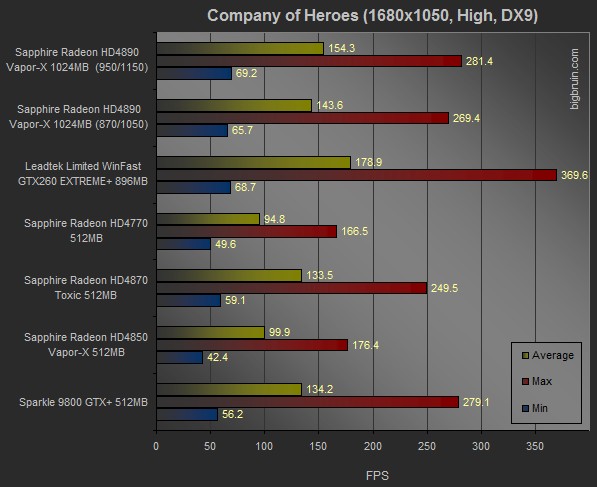 Windows 7 Experience:
Windows 7 has a simple benchmark built in to analyze the capabilities of a few key hardware components. We will focus on just the gaming graphics and desktop graphics scores, as they are the only ones that should change from one graphics card to the next. Higher is better for these results, and the highest possible score is 7.9.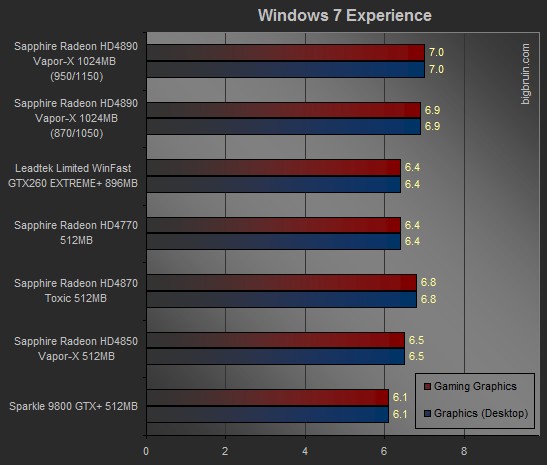 The Radeon HD4890 puts up the best score (6.9) at its stock speeds, and that 9% overclock is just enough to bump it up to a score of 7.0.