Configuration:
A system with the following components was used for this review:
» Intel i7 920 quad core processor
» Gigabyte GA-EX58-UD3R LGA 1366 X58 ATX motherboard (BIOS F6)
» G.Skill 6GB PC3-12800 DDR3 triple channel memory (1600MHz, 9-9-9-24)
» Maxtor MaxLine III 250GB SATA 3Gbps hard drive
» TSST Super WriteMaster optical drive
» Nesteq EECS 700 Watt power supply
All tests were conducted in the 64-Bit version of Windows 7 RC1, and the Windows 7 approved version of the Catalyst Control Center version 9.5 was used in lieu of the drivers provided in the box.


The screenshot below provides details regarding the Sapphire Radeon Vapor-X Radeon HD4890 1GB as provided by the Catalyst Control Center's Overdrive tab and by Techpowerup.com's
GPU-Z
. The published specifications are confirmed, and the main item of interest is the large amount of overclocking head room available on the Overdrive tab sliders. Generally these values are rather conservative and easy to max out, but we have plenty of room to push this pre-overclocked card even further.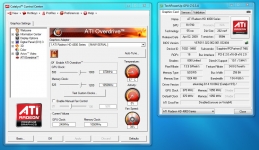 Overclocking:
In general, when I review a Radeon based card I just push the Overdrive tab's sliders to the maximum for GPU and memory speed. The values are generally rather conservative, but comparing test results can provide a good sense of whether overclocking is even worth trying. With this card the GPU and memory are already overclocked, and there was a relatively large potential overclock possible thanks to the GPU slider going up to 1000MHz and the memory slider going up to 1200MHz.
My first move was to overclock the GPU alone, and went for it all (1000MHz). The Catalyst Control Center reported this as a failure, so I backed it down to 975MHz, which passed its basic self test. Next I tried moving the memory speed up to 1175MHz (didn't want to go for 1200MHz) with the GPU speed returned to stock speed (870MHz). It passed the Catalyst Control Center test, so I then raised the GPU speed back to 975MHz and went to do some more serious stress testing.
After a reboot I went to launch 3DMark Vantage and the system sputtered and the image froze to the screen. Despite being tagged as a passing speed, it was obvious that the overclock was a bit too high. I got conservative and backed the GPU and memory back by 25MHz, hitting 950MHz (GPU) / 1150MHz (memory). Rebooting and entering games and benchmarks was now problem free.
While people with more patience for overclocking could quite possibly do better, I was not disappointed in this overclock despite no maxing out the sliders. 80MHz on the GPU and 100MHz on the memory is just over 9% for each, which could provide some decent bumps during testing.