Conclusion:
The bottom line on the
Sapphire
Vapor-X Radeon HD4890 1GB graphics card is that it offers high end performance with minimal noise; two items near the very top of my checklist of things to look for in a graphics card.
Another nice touch with this card is that the dual slot back plate was partially used to add more video connections. While there is some room for hot air to be exhausted out of the case, there are also integrated DVI, VGA, HDMI, and Display Port connections. With the included Display Port to DVI adapter, you have the ability to run three typical displays while also having your HDTV hooked up via HDMI.


Like most graphics cards today, the cooling fan's speed is automatically controlled based on GPU heat. While the fan remains nearly silent at just about all times, it might be a good idea for the speed (and perhaps the noise) to be increased just a little bit. The fan is set to ramp up at 85C, but the highest temperature achieved during testing was 81C. Cooler is always better for extending the life of electrical components, so lowering the set point to even 80C or 75C might be worth considering. I manually adjusted the fan speed to 100% to see what it might sound like, and to be honest even that wasn't too bad when compared to the roar of some cards I have used.
Another issue that generally goes hand-in-hand with high heat production is high energy consumption. Of the six cards compared, this one required the most AC Wattage at idle and under a load. Sure, it is the highest performing card of the bunch, but this card seemed to be pushing into the territory of dual GPU cards. Considering all of the bullet points regarding energy efficiency found on the card's
official product page
, you might expect something different.
The Sapphire Vapor-X Radeon HD4890 1GB graphics card can be found at a variety of familiar online retailers, including
Newegg.com
where the price is
$239.99 (US)
. While you do pay a premium for all of the premium features found on this card, the price isn't even close to making it the most expensive HD4890 out there. Checking out
other 1GB HD4890 offerings
shows that you could get a couple cards for less than $170 (with mail in rebates), and one of them comes overclocked to 900MHz (GPU) / 1000MHz (Memory). The performance, silence, and connection options on this Sapphire card are definitely nice, but a $70 difference is significant.
Given the performance and silence, the
Sapphire
Vapor-X Radeon HD4890 1GB graphics card earns the Bigbruin.com awards of "Recommended" and "Whisper Quiet".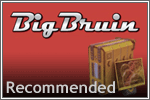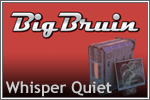 Pros:
» Factory overclocked, but capable of running even faster
» Impressive performance in benchmarks and games
» Integrated DVI, VGA, HDMI, and Display Port connections
» Some hot air is exhausted out of the case
» Automatic fan control keeps card very quiet
Cons:
» Power hungry
» Automatic fan control lets GPU get to 85C before ramping up
» Premium features come with a premium price tag
Please drop by the Bigbruin.com Forum and feel free to post any
comments or questions
.