Conclusion:
In use the
Sapphire
Radeon HD4770 512MB graphics card performed admirably. It is not the ultimate gaming solution (and doesn't claim to be), but for about $100 it is definitely impressive. It can put up solid numbers in games with the settings turned up and it won't make your electric meter spin out of control in the process.
The cooler kept the GPU at a safe operating temperature, and in general was rather quiet. There were a few times when the fan speed surged to address a rise in temperature, but the noise was nowhere near as loud as I have experienced on some cards. More of a moderate whoosh than a loud roar.


There are really new serious negatives to discuss regrading this card, but I do have a few wish list items that might make the card even more appealing. The first would be to get the HDMI port integrated in to the card. HDMI via a dongle is OK, but squeezing it in between those two DVI ports would be better. The other would be for Sapphire to do what they usually do and design a card that is a bit different from
everyone else's
. And perhaps as a part of this creative process, they could incorporate a cooler that exhausts the warm out of the case, since it is a two slot solution anyway.
As mentioned a few times already in this review, the price is definitely a strong point for the HD4770. Sapphire's new card may be hard to find in stock at this point, but when it is on more store shelves it should sell for around $100 (US). In terms of gaming on a budget, this card brings new meaning to the term bang for the buck.
All things considered, the
Sapphire
Radeon HD4770 512MB graphics card earns the Bigbruin.com awards of "Highly Recommended" and "Good Value".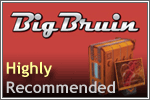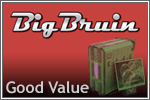 Pros:
» Strong performance for the price
» Gets even stronger with a bit of overclocking
» About $100 (US)
» GDDR5 memory on a 'budget' card
» Dual DL-DVI ports
» Energy efficient
» Quiet
Cons:
» HDMI is not integrated, requires a dongle
» Nothing to distinguish it from any other brand's Radeon HD4770
» Cooler dumps warm air back in to the case
Please drop by the Bigbruin.com Forum and feel free to post any
comments or questions
.