Rosewill
offers computer components that we have become rather familiar with thanks to numerous reviews at Bigbruin.com over the past few years. The brand is part of the
Newegg.com
family, and their products are found just about exclusively on Newegg.com's virtual shelves. Up for review this time around we have one of their newer input devices, the RK-800G gaming keyboard, which carries a curiously low price of
$14.99 (US)
; which includes free shipping and a free mouse.


The promotional image above provides an overview of Rosewill's RK-800G gaming keyboard. If you're anything like me, your first glimpse of the RK-800G may have you thinking this has to be the wrong unit, since it looks pretty much like a basic no-frills keyboard. Rosewill is looking more at the functionality when they use the term "gaming", and obviously aren't trying to compete with keyboards like the
Logitech G15
.
Before taking a closer look at the sample provided for review, lets take a look at some of the published information available from the
official product page
on the Rosewill website.
Features:
» Polished top cover for a stylish new look.
» 11 keys can be pressed at the same time without conflict,
beating other conventional keyboards on the market.
» The great feel from the high quality ABS key caps improves responsiveness and performance.
» The contacts on individual rubber domes can be unreliable,
causing the keyboard to not work properly.
» One-piece rubber dome design ensures keys aren't easily dislodged when hit or dropped.
» There are separate cursor and numeric keypads, dual Alt, Shift & Ctrl keys
» LED indicators for NUM lock, Caps Lock and Scroll Lock.
Specifications:
» Model: RK-800G
» Interface: PS/2
» Design Style: Standard
» Normal Keys: 104
» Type: Wired
» Cable Length: 1.4M
» Peak load before make (normal key): 60+/ -15g
» Switch life: 10 Million
» Dimensions: 450(L) X 160(W) X 35(H) 18 (H)mm
» Keyboard weight: 640g
» O.S. Support: Windows 98SE/ 2000/ ME/ XP/ Vista/ 7
» Warranty: 1 year
Packaging:
The images below detail the simple, but effective packaging used for the
Rosewill
RK-800G gaming keyboard. The black box gives you a few images of the keyboard, and describes the bulk of its features and specifications.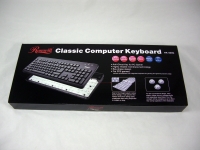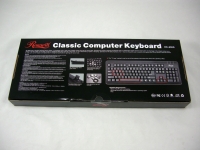 One thing you may notice is that while reference is made to gamer friendly features in some of the smaller text on the packaging, the term "classic", and not "gaming", is used to described the keyboard in big, bold letters.