Conclusion:
The
Rosewill
RMS-16003 is very well designed dual arm monitor mount, that will get your two flat panel displays up off your desk and let you place them exactly at the position you want them. There is plenty of adjustment for height, depth, tilt, swivel, and rotation, and I am personally very pleased with how my matched set of 22" monitors look now. On top of that, you will regain a good deal of desktop real estate, which I may be just as excited about. And just to add a little extra convenience to the deal, Rosewill has included two USB 3.0 ports at the base of the mount. USB 2.0 hubs are fairly common, but not everyone has USB 3.0 ports available on their desktop. This feature will make accessing things like high speed drives very practical.


While the price of
$70 at Newegg
seems appealing, I was surprised to see it is only $60 at Amazon (also with free shipping). I would say this is definitely an attractive price for the quality and function of this dual arm monitor mount.
In the end, the Rosewill RMS-16003 dual arm monitor desk mount earns the Bigbruin.com "Recommended" award.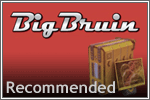 Pros:
» Very well designed and attractive
» Very strong arms
» Monitor power/video cables can be routed in arms
» Plenty of adjustability
» Dual USB 3.0 connections are handy
» Attractively priced
Cons:
» Mounting plates should have some rubber / foam on them to protect your desk
Please drop by the Bigbruin.com Forum and feel free to post any
comments or questions
.