In Use:
The image below shows the two mounting options. The mechanism on the left will clamp to the edge of a desk or other flat surface with an exposed edge. You simply bolt the triangular plate with the three holes (on the left) to the base of the mount and use the black thumb screw to tighten it up. The item on the right has the same triangular section that bolts to the base of the mount, but then a carriage bolt will pass through a hold in your surface where you then place the metal disk and then a different plastic thumb screw.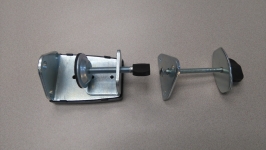 The installation for this review will use the hole style mount, so the first thing I did was bolt the triangular plate to the base of the mount with the carriage bolt in place (as seen in the below left image). At this point, I modified the mount a bit, as I did not like the fact that my desk was going to be clamp by two steel plates. While the other style of mount has foam only on the part that touches the underside of your desk, this style of mount has no foam installed. I used some thin, but very grippy, adhesive basked rubber on the two surfaces to help protect my desk, and to hopefully keep the mount in place better. The below right image shows my handy work at cutting the rubber to fit... And what do you know, it is USB 3.0 blue, too!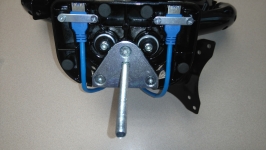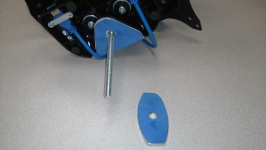 The next set of images is a before view, where we see that a great deal of desktop real estate is lost to my monitors. While one sits on my mini computer, the other is on the desk, and it is probably a 6 square foot area of desk that can't be used for anything else.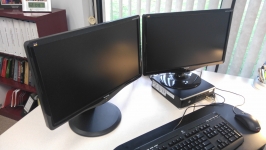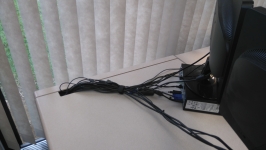 The images below show the same monitors mounted on the
Rosewill
RMS-16003. I shifted the PC to the right, and I now have this whole half of my desk wide open. When I push the keyboard and mouse to the right when not in use, the 6'x3' desk surface on this side of the "L" is fully available for use. I can lay out D sized drawings, spread out items to be reviewed, and I can just overall be more productive while using the computer and when I am not.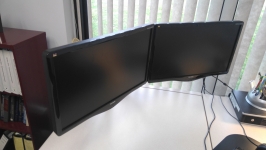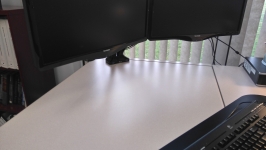 The PC pictured does not have USB 3.0 capabilities, but I tested the cables on another system to verify they were up to snuff... A 64GB USB 3.0 flash drive that tests at 132MB/s read speeds when connected directly to my PC reported exactly 132MB/s while using one of the Rosewill mount's cables.