Configuration:
OCZ Technology
's RevoDrive X2 100GB PCI Express SSD was tested in a system with the following hardware and software installed:
» Intel Core i7-920 quad-core processor
» ASUS P6X58D-E LGA 1366 Intel X58 motherboard
» Cooler Master Z600 heatpipe CPU cooler
» Crucial RealSSD C300 128GB 6Gbps SSD (boot drive)
» Seagate Barracuda XT 2TB SATA 6Gbps hard drive
» Crucial Ballistix Tracer 6GB DDR3-1600 memory kit
» ASUS Radeon HD6870 1GB graphics card
» Nesteq EECS 700 Watt modular power supply
» Windows 7 Professional 64-Bit


At this point of the review I would usually include a screenshot from
CrystalDiskInfo
to summarize the basic information regarding the drive in question. Unfortunately, the RevoDrive X2 was not detected by this software, so there is nothing to show.
While not the same thing by any means, the screenshots below do show how Windows sees the RevoDrive. The Disk Management interface (below left image) shows all of the drives installed on the test system. To get to this point, a driver had to be downloaded from the OCZ Technology website. With the card installed physically, Windows will not recognize it properly until the driver is available. The Device Manager (below right image) shows two entries for the RevoDrive X2, one for the drive and the other for the drive controller. In the "Disk drives" section we see an entry for the SiImage SCSI Disk Device, and down in the "Storage controllers" section we see an entry for the Silicon Image SiI 3124 SoftRAID 5 Controller.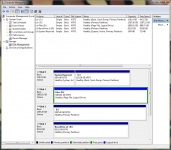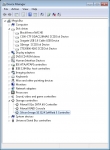 Testing:
All benchmarks were run on the system with the specifications detailed in the previous section of this review, and the benchmark applications were launched from the Crucial RealSSD C300 drive listed as the boot drive.
For comparison purposes, the RevoDrive X2 100GB solid state drive will be matched up against five other (relatively) high-speed solid state drives:
» OCZ Technology RevoDrive 50GB PCI Express SSD [
review link
]
» Crucial RealSSD C300 128GB 6Gbps SSD [
review link
]
» OCZ Technology 50GB Vertex 2 SSD [
review link
]
» OCZ Technology 60GB Agility SSD [
review link
]
» Super Talent UltraDrive 32GB FTM32GX25H SSD [
at eWiz.com
]
While the traditional 2.5" solid state drives were connected the test system via a SATA 6GB/s port, the OCZ Technology PCI Express drives took turns sharing a PCI Express 2.0 x16 slot (which offers x8 transfers).
The benchmarks to be executed on the five drives were pulled from the applications listed below.
» PassMark Performance Test 7.0 Advanced Disk Test
» PCMark Vantage x64 HDD Suite
» ATTO Disk Benchmark v2.41
» AS SSD Benchmark 1.4.3704.27281