Conclusion:
OCZ Technology
has another winner on its hands with the RevoDrive X2 100GB PCI Express SSD! It is hard not to be impressed by an SSD that offers read speeds of up to 740MB/s and write speeds of up to 690MB/s. Top speeds like that are obviously impressive, but other than appearing on paper and in the handful of synthetic benchmarks that can confirm them, you might not ever see them in normal use.
With that said, the real world usage of the RevoDrive X2 should attract just as much attention. A variety of tests were run on the RevoDrive X2 and a collection of five other "high speed" SSDs, and the RevoDrive X2 was consistently dominant. It not only was the fastest drive in most of the tests, but many times it was faster by a factor of several hundred percent!


On the down side of things, I really don't have much to say. You do have to download drivers from the OCZ Technology website to make the drive usable in Windows, and you do have to have an x4 (or greater) PCI Express slot available. Neither is a big deal, but just check for the free slot before making the purchase! When I looked at the 50GB RevoDrive I commented on the fact that cloning Windows from a more traditional drive to the RevoDrive was nearly impossible since none of the popular cloning applications I used (from makers like Acronis and Paragon) could even detect the presence of the RevoDrive. While I have not tested this personally, I have read multiple accounts of Drive Image XML working with a few extra steps to make the OCZ Technology specific drivers available.
The
Bigbruin.com shopping pages
only find one entry for the OCZ Technology RevoDrive X2 PCI Express SSD, which is
$393 (US) at Amazon.com
. Looking elsewhere online to confirm that this is a fair price finds that this drive is also stocked at
Newegg.com for $395 (US)
. Considering a traditional SSD, a price tag of almost $400 is very expensive for 100GB. But, this is not a traditional SSD. Shopping around for four high-speed 32GB drives finds that you might pay
$90 each
, or $360 for a set of four. You still might have to buy the controller to configure a RAID 0 array, and you have to spend the time installing all of the drives and building the array. When I look at the RevoDrive X2's price in this light, I see it as being extremely competitive.
In its review, the 50GB RevoDrive earned the Bigbruin.com "Great Idea" and "Recommended" awards due to its innovative design and high performance. Considering that the 100GB RevoDrive X2 PCI Express SSD is based on a similar design and offers even greater performance, it seems necessary that it earn the Bigbruin.com "Great Idea" and "Highly Recommended" awards.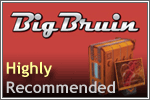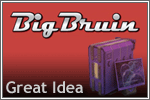 Pros:
» Incredible read and write performance
» Competitively priced when compared to 4 high performance drives to be used in RAID 0
» Easier to install than a 2.5" drive
» 3-year warranty
Cons:
» Price is high when compared to more conventional 100GB SSDs
» Have to have a free x4 (or greater) PCI Express slot available
Please drop by the Bigbruin.com Forum and feel free to post any
comments or questions
.