Packaging and Accessories:
Crucial
's 128GB RealSSD C300 drive is sold in the compact black and yellow box shown in the images below. The front of the box provides minimal information, while the back provides product specific information in a small table off to one side.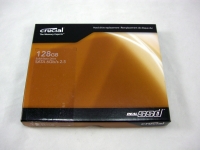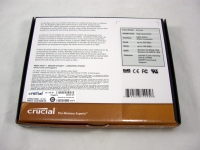 Inside the box you will find the solid state drive nestled in a form fitting cutout made in to some protective foam. Other than the drive, the only things included are some support documentation.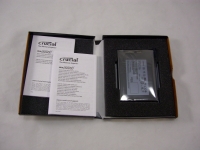 External Examination:
On the outside, the 128GB RealSSD C300 looks much like any other 2.5 inch drive. The front of the cast metal housing features a decorative label which simply lets you know it's a Crucial RealSSD series drive. The label on the other side of the drive provides a good deal more information - including capacity, transfer rate, and firmware revision number.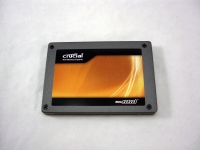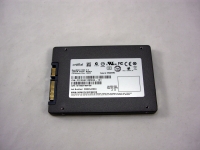 Internal Inspection:
Four screws are all that stand in your way of checking out the drive's PCB (in addition to the fear of voiding your warranty). The below left image shows what I'll call the top of the PCB, where we find the Marvell controller which is what gives the RealSSD C300 series its 6Gbps super powers. In addition there are sixteen (eight per side) Micron brand MLC NAND flash memory chips, as well as a Micron brand cache memory chip on the backside. Since Crucial is a part of Micron, we can see that they didn't have to outsource much for this product.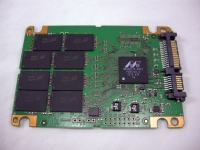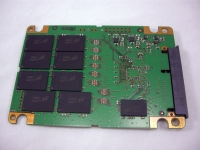 Configuration:
The
Crucial
RealSSD C300 128GB 6Gbps solid state drive was tested in a system with the following configuration:
» Intel Core i7-920 quad-core processor
» ASUS P6X58D-E LGA 1366 Intel X58 motherboard
» Cooler Master Z600 heatpipe CPU cooler
» Seagate Barracuda XT 2TB SATA 6Gbps hard drive (boot drive)
» Crucial Ballistix Tracer 6GB DDR3-1600 memory kit
» Sapphire Vapor-X Radeon HD5870 1GB graphics card
» Nesteq EECS 700 Watt modular power supply
» Toshiba slim DVD drive
» Windows 7 Professional 64-Bit
The screenshot below was created from CrystalDiskInfo 3.5.6 to show the basics regarding the 128GB RealSSD C300. We get confirmation of things like the 128GB capacity, that TRIM/NCQ/SMART are supported, and that it uses a SATA 600 (6Gbps) transfer mode. If you own a RealSSD C300, use this utility to check your drive for the installed firmware. Owners of revision 1 drives may want to consider a firmware update!