Conclusion:
The Megahalems heatpipe CPU cooler may be
Prolimatech
's only product, but hopefully that will change. The design and performance are top notch, and during testing it asserted itself as a solid choice for keeping an Intel Core i7 CPU cool.


On the downside, there are a few things to keep in mind. The size and orientation of the cooler means that it might not fit as intended on every motherboard or in every case. In addition, mounting hardware for AMD AM2/AM2+ processors is optional and may have to be purchased separately.
A quick
Google search
reveals that the Prolimatech Megahalems can be had for around $60 to $65 (US) at a handful of online retailers.
Crazy PC
offers this cooler for a very competitive $59.99. They also offer numerous fan options (which are highly recommended) right there on the product's page in the form of a drop down box to be added to your order with the Megahalems.
Overall, the Prolimatech Megahalems heatpipe CPU cooler is a superb cooling solution and earns the Bigbruin.com "Gaming Approved" and "Highly Recommended" awards.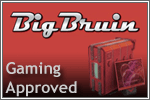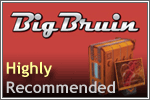 Pros:
» Solid, sturdy construction
» Impressive cooling performance
» Extremely simple to mount
» Six heatpipes dissipate heat quickly
» Includes thermal paste and fan mounting hardware
» Option to run two fans for better cooling
Cons:
» Hardware for AM2/AM2+ platforms optional
» May be difficult to mount exactly as instructed
» Massive size may make it difficult to mount in all cases
Please drop by the Bigbruin.com Forum and feel free to post any
comments or questions
.