Installation and Operation:
Setting up the mounting bracket required us to remove the motherboard from our test bench. It was a fairly straight forward procedure. After mounting the motherboard bracket, we put the double-ended screws in and secured the mounting bars. We would have liked to have seen some plastic or paper washers included, but it's not a deal breaker. With the mounting bars in place, we noticed there might be a problem. In the picture below, you can see how tight the clearance is with the capacitors.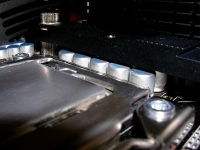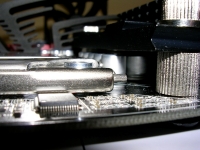 Next we mounted the cooler and secured the cross-brace according to the directions, which call for the fan to be blowing towards the case exhaust fan. Now we officially have a problem. On the eVGA board we are using, the is a large Northbridge cooler. This caused an issue when tightening the spring-loaded screws. Due to the angles involved, the cooler's fins actually bend slightly when the screws are tightened all the way.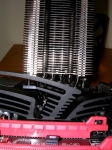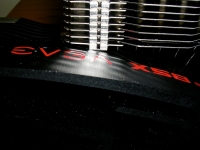 Upon further consideration, we decided to throw caution to the wind and rotate the cooler 90 degrees and have the fan blow across the passive Northbridge cooler and the back of the GPU. This is similar to the configuration of two other coolers to be used in the testing portion of this review.
Clipping the fan on was just as easy. Since it fits into the notches at the end of the fins, you could get a second fan and run a push-pull scenario for added cooling.
Finally, we get to see just how big the Megahalems is when mounted. Mind you, this a a microATX board, but it still takes up a great deal of space. In the below left image we can see that the cooler actually hangs over the edge of the board a bit. This would not be the case if you have it turned 90 degrees like we ended up doing - but it is something to consider if you have top mounted fans, like in an Antec Three Hundred case. The below right image shows the cooler mounted with the supplied 120mm fan.