Packaging:
Our Prolimatech Megahalems arrived in the very nice retail box shown below. It's quite obvious just looking at it what platforms might be supported. The back of the box is not so descriptive; sending us to their website for more information. The right side informs us of the socket compatibility and the left gives us the briefest of specifications.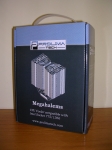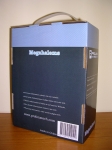 Inside this box is another box covered in foam padding. Next we find the cooler wrapped very carefully in bubble wrap with another sheet of closed cell foam separating the two "towers" of cooling fins.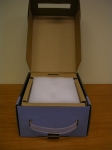 After dismantling the padding, we are left with what you see below - A massive, shiny behemoth of a cooler.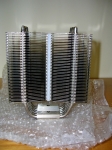 The Basics:
After carefully peeling away the protective film from the bottom, we can see that the surface issn't the mirror smooth finish we are so accustomed to (we'll get to that in a second). After placing a thumb screw on top of the cooler base, you get a good idea of how textured the surface really is.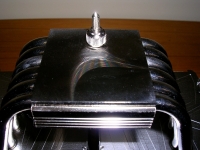 There is a method to Prolimatech's madness - let's let them explain it (via their website):
Lapping Warning! - Prolimatech does not condone any type of lapping done to the CPU or to heatsink base. Every Prolimatech's heatsink base is designed on a pin-point scale of how the base is to be flat and/or curved where it's needed to be. We have programed our machines to machine the surface in a very calculated way. Any after-manufacture lapping or modding done to the base will alter the design, hence negating its performance factor as well as its warranty.
There you have it folks. Don't try to polish, buff, or lap this cooler. Prolimatech has already done it for you. In fact, if you do, you've just voided your warranty.