Conclusion:
The
Powermat
portable wireless charging mat can greatly reduce the number of chargers you need to power your devices... A good thing for when you are at home, and an even better thing when you are traveling. Instead of a jumble of cables and power bricks, you might only need the portable Powermat and its accessories packed neatly into its case.


One drawback to the Powermat is that there currently aren't receivers for many of the phones or other devices on the market today. Another issue is that you have such a small area to ensure your device is placed for it to charge. I would like to see this area doubled in size, it would make it much easier to toss your device onto the charge pad rather than having to ensure you place it exactly in the center of the pad.
The initial cost of the Powermat may be the biggest thing to keep people from adopting this technology. The charging mat itself sells for just under $100 at places like
Amazon.com
, and this includes the Powermat portable wireless charging mat and the Powercube with tips. Receivers for iPhones and other devices sell for somewhere between $30 and $40 each, meaning you'll probably spend at least $130, and perhaps close to $200 to use this with your devices.
Taking into account the cost, the many accessories (both currently available and coming soon), and the technology, the Powermat portable wireless charging mat receives the Bigbruin.com "Great Idea" and "Recommended" awards.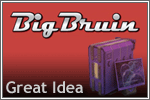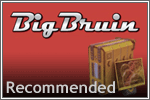 Pros:
» Fast and easy wireless charging
» Visible and audible acknowledgment of charging
» Quickly charge many devices (up to four at a time)
» Auto shut-down after device is fully charged
Cons:
» Price
» Limited selection of supported devices at this time
» Still need wires for some devices
» Could use more options for charging other devices (AA batteries, Flashlights)
» Can't store all the Powercube tips in the storage box
» Bigger charging points would be helpful
Please drop by the Bigbruin.com Forum and feel free to post any
comments or questions
.