Powermat BlackBerry Tour Cover:
To use the Powermat charging mat to its fullest potential, the user might want to consider purchasing one of the custom receivers for the device to be charged. Currently there are only a small number of these receivers available.
Currently Available Receivers:
» Apple iPod 3G
» Apple iPod Touch
» Apple iPod Dock and iPhone
» Blackberry: Tour, Bold, Curve 8300, Curve 8900, and Pearl
» Nintendo DS
» Nintendo DSi
Each of these custom receivers is sold separately for between $29.99 and $39.99. The picture below shows the PowerMat receiver for the Blackberry Tour.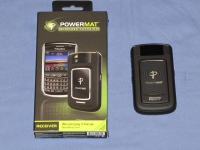 The picture on the left shows the Powermat BlackBerry Tour battery cover, as well as the OEM Tour cover. Personally, I like the way the Powermat cover looks when compared to the OEM cover. When it is installed on the device, it looks like it the real cover as it matches the rest of the Tour. The picture on the right shows the difference in thickness of the two covers. The Powermat cover is slightly thicker than the OEM cover, however it is not a huge change. It still slips into the cover provided with the Tour.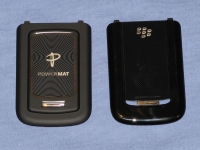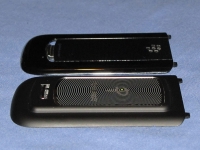 In Use:
Powermat claims that their technology will charge a device as fast or faster than a normal charger. To test this, a BlackBerry Tour (9630) was used until the device shut itself down, and then charged to 100% for each of the three tests shown in the chart below.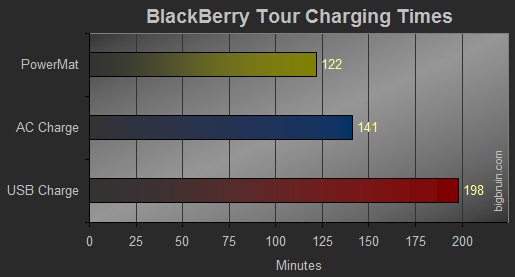 As the above chart shows, the Powermat does charge the BlackBerry Tour a bit faster than the other two methods. Using the Powermat, the Tour was charged in just over two hours, while using the AC adapter provided with the Tour took approximately 20 minutes longer to charge. Charging over the USB cable is about 1 hour 15 minutes longer.