Performance
As mentioned previously, the tamper resistant outlets work with minimal effort and work just like any other outlet in your home. The USB ports worked as expected. Every device that I connected to the NewerTech Power2U was able to be charged, and at a comparable rate to a dedicated charger. There may be one exception to consider; if you connect a high current device the charge times will take longer as the maximum output on the 5V supply is 2500mA split between both ports.
The great thing is you have freed up two of your outlets which means you can just use the standard receptacle for the higher powered devices. I did find a few devices with power adapters that made using the USB ports a bit tricky, but to be honest I was looking for things that would create interference and not many did.


Conclusion
I think the concept of the
NewerTech
Power2U AC/USB wall outlet is great, but you really need to plan out where you think you will use this. The current design does bring with it some limitations you need to consider. As mentioned previously, the large size may be an issue for some boxes. But in my installation I found other limitations. I, like many, charge my devices on my nightstand next to the bed. But this outlet has two power sources. One is the standard unswitched line, the other is tied to a room switch to turn on a table lamp. Since the screws for hot and neutral are common and can't be isolated like standard outlets you can't use this device there. Another proposed location was the kitchen counter. Problem here is local code requires all receptacles to be GFCI. Some local codes allow you to daisy chain additional outlets off of one GFCI, others do not. While I have some that are daisy chained, I had heard the code has since changed. This is where a licensed electrician would come in handy.
With all of this said, I did find a few places these outlets would be handy. Currently one is installed behind a dresser, allowing us to charge two phones while still powering the TV and a Western Digital WDTV Live media player.
The NewerTech website will guide you to a number of retailers for the Power2U product line, but they emphasize one location, which does seem to have a very good deal on these devices.
Other World Computing
usually lists the 15A white model we reviewed for $29.95, but presently it is $15.00. It is interesting to see that the 20A version in white is presently $19.50, and the other colors available have prices ranging from $13.00 to $19.50.
In the end, the NewerTech Power2U AC/USB wall outlet earns the Bigbruin.com "Good Value" and "Great Idea" awards.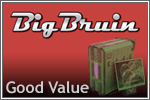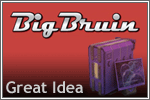 Pros:
» With correct location installation is very easy
» Frees up your standard receptacles while still allowing you to charge devices
» Charge rates were comparable to many dedicated chargers
» Price is competitive to big box stores and includes faceplate
» Available in several colors to match your décor
Cons:
» Requirement for larger enclosures may limit locations you can mount
» Inability to isolate outlets to make one switched can also limit mounting locations
» Non-standard faceplate limits mounting to single gang enclosures only
» High current draw devices will charge slower, especially if other USB is used
Please drop by the Bigbruin.com Forum and feel free to post any
comments or questions
.