The Basics:
A quick review of the device reveals the that there are two standard receptacles which are tamper resistant. In the past I have tried a few of these and often found them to be miserable. The effort required to plug devices in was ridiculous, but that is not the case with this device. There are also two USB ports that have shutters. When the shutters are closed the power supply is turned off so you don't waste money powering something that isn't there.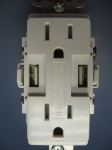 In the back you'll find the screw for your ground connection, and two screws each for hot and neutral lines.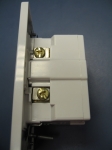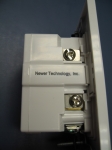 There is also a wire strip length gauge.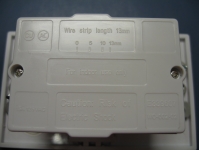 Initial Setup:
First of all, I will not describe how to install an outlet. While it is incredibly easy and safe to do on your own, if in doubt hire an electrician. As mentioned above they do give you instructions on how to install this should you choose to do this on your own. But there are a few things you have to be aware of before you start. Since this device is so big it requires a minimum enclosure volume of 16 cubic inches with four insulated wires. A quick walk through the local hardware store showed the smallest currently available box is 14 cubic inches and the norm is 18 or more. But many homes were made long before current codes, and codes do vary by region. From what I have seen, if your boxes are metal you will likely have to replace the box. If you have plastic boxes you have a fighting chance. But the caveat here is it also depends on how much wire they pulled to the box. Some electricians like to leave more cable than others so the fit could still be very tight. Another limitation not listed in the installation guide, but which is clearly marked on the device, is the requirement for copper wire (see below). The installation guide does indicate solid or stranded wire is fine, but since the design requires you to bend the wire 90 degrees, aluminum wires would be too likely to break and cause a problem.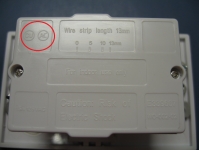 There is a guide on the back of the outlet to show how much wire should be stripped, though I prefer ones located on an edge so it is easier to confirm the length is correct. Other than that the set up is straightforward and within minutes it is installed. Once installed, I used an outlet checker to confirm everything was connected correctly.