Conclusion:
I really like the
POW Audio
Mo Expandable Wireless Speaker... It sounds great, looks cool, and has a handful of interesting features that make it more appealing than your typical Bluetooth speaker. The WaveBloom feature, the ability to sync two Mo speakers to create a stereo pair, the magnetic bases, and the magnetic add-ons like the universal mount and the POW wallet are all great ideas and make the speaker more likely to stay with me on a daily basis. Getting close to eight hours of play back time on a two hour charge is pretty good to me, as you'll just about get through a typical work day, or through something more fun like a pool party, etc.


Two wish list items would be for the speaker to include a longer charging cable, and for POW Audio to tone down their acknowledgement "chimes". When I started this review I was thinking that the price may be one of the negative features of this product.
$80
is the current list price at
Amazon.com
, which is down from the launch price of around $100, but still quite high for a small Bluetooth speaker in my opinion. But, recently there has been a 25% off coupon available right on the product page at Amazon.com, which brings the total down to $59.99, which just feels like a much better deal to me. At this price, I would definitely recommend grabbing one, and maybe a second if you wanted to create a unified pair.
For its performance and cool features, the POW Audio Mo Expandable Wireless Speaker earns the Bigbruin.com "Recommended" and "Great Idea" awards.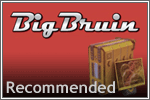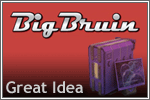 Pros:
» Very good sound quality for such a small device
» WaveBloom definitely enhances the sound quality while keeping the speaker quite compact
» Unifying a pair of Mo speakers into a stereo setup is a great feature
» Get almost eight hours of playback time using one speaker, a bit less with a pair of them unified
» USB-C charging in convenient and fairly quick
» Universal Mount and POW Wallet accessories are cool extras to have
Cons:
» Sound effects when turning it on/off and syncing two together are a bit over the top
» USB-C charging cable is very short
» No built in volume control - must be used with a device that can control volume
Please drop by the Bigbruin.com Forum and feel free to post any
comments or questions
.