The Basics:
The image below shows the snow and graphite Mo speakers together, still sporting a sticker from the factory that give basic instructions on using the WaveBloom feature. Basically, without covering the small "wave port" found on the left side of either speaker, you get a grip on the front face of the device and gently pop one edge up at a time. The rubber membrane is fairly stiff, but if you just follow the brief how-to it is easy to get the Mo in the fully extended state. As it is being expanded, air rushes in through the wave port, and you can hear a moderately entertaining "pfft, pfft" sound.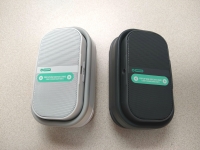 The images below show just the snow version's front face, with and without the instructional sticker. What is not visible in the image but is with the naked eye is that behind the grille there are two small drivers which I would say each of them are somewhere around 35mm in diameter.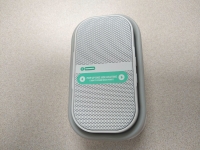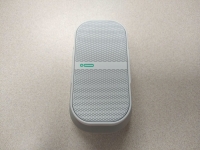 The promotional image below shows a great comparison of the speaker in its compact and fully expanded states. It doubles in height from about 25mm tall to about 52mm tall in the process.


With the speaker expanded, we'll take a look at the sides in order to check out the additional features. The below left image shows the side that includes the wave port. This is something like a miniature bass reflex port, and it has a bit of metallic mesh inside of the port to allow air to pass through, while keeping debris out. In this image we can also see the back of the speaker, where the four magnets are encircled with green rings. The below right image shows the other side, where we see the USB-C charging port, the power button, and the Bluetooth pairing button. These buttons work as you would expect on any Bluetooth speaker, but they are also used during the process of unifying to Mo speakers into a stereo setup.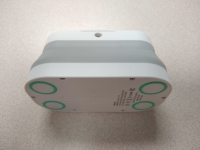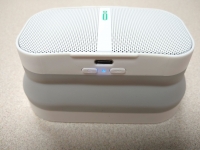 What you do not see in any of these pictures is dedicated volume control. You need to use these with devices that control their outputted Bluetooth audio on their own. For your typical mobile device or computer, this should be no problem. One night I had the bright idea to pair these to a Firestick 4K to watch a little Netflix. Well, since the Firestick is looking for your TV to handle audio control, the show audio came through at one volume only... full blast.