Packaging and Accessories:
The images below show the front and back of the retail boxes for the graphite and snow versions of the
POW Audio
Mo speakers. They provide plenty of information, and provide a few good looks at the device and how you could use it.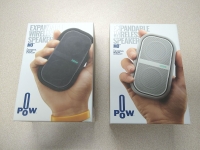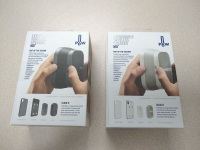 We will focus on the snow colored speaker, and the images below take a closer look at the front and rear of just that one box. The back of the box covers the fact that the back of the speaker is magnetic, making it easy to stick to a variety of surfaces, as well as to some of the accessories included in the box.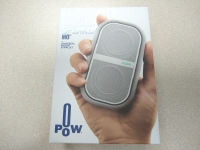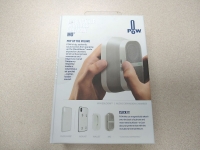 The front face of the box can be folded open to reveal the speaker itself, as well as an image of four people having a good time with their Mo.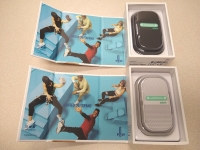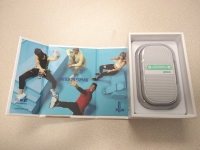 In addition to the speaker, each Mo comes with some product information, a very short USB-C charging cable, the Universal Mount, and the POW Wallet. While I am glad it included USB-C, and appreciate that a cable was included, charging the speaker with what is provided can be tricky depending on your situation. If you want to use your own USB wall charger, it is very likely the speaker will be dangling in the air by the cable since it is so short. When using my wall charger and the included cable, I stacked up some boxes to support the speaker. When plugged in to a computer to charge via an available USB port, you may not get the power to charge at full speed depending on your system (the speaker is rated for 5V, 2A), but you should be able to find some desktop real estate for the speaker to sit on safely.