Conclusion:
For a router with some highly advanced features, it is somewhat surprising how simple the
Portal
is to set up. At the same time, this simplicity results in little user control over some of the features. They give you enough to have basic control, but many of the typical settings are not present. Maybe some of this is due to the acrobatics it needs to pull off to avoid radar and get full FCC approval. Either way, in my limited time with the Portal router I didn't see any negatives about loss of such controls. So in the end this may be a big selling feature for a lot of people who are intimidated by setting up such devices.


Even though I was not able to utilize the FastLanes, the standard implementation of 2.4 and 5GHz networks proved to be quite good. The signal strength and link speeds show that the Portal 5GHz network clearly outperformed the D-Link router on hand. In all locations it had the stronger signal, and often significantly higher speeds. During normal use, streaming movies was always smooth with no buffering issues, whether it was from a NAS or from an online source. Similarly, the 2.4GHz network performed well; it had the strongest signal in two of the four locations and the fastest speeds in three of the four. While I would have liked to see what the FastLanes were capable, of the Portal router is quite the performer even without them. It delivered on all of its specs so I have little doubt with a supported device you would see even better performance.
With
Ignition Design Labs
working on constant updates/upgrades, the support is second to none. While the single Portal router is enough to fully blanket my 2400 sq. ft. home in useable WiFi, I would love to see what kind of speeds this thing is capable of when the mesh networking is released.
At a current price of just under
$200 at Newegg
, this router is tough to beat. This price puts it right in line with other AC2400 routers, plus this adds the capability to add a mesh network if you need to, and to make it further future proof it has the capability of utilizing those unused FastLanes. So as more devices become compatible you won't be left only to buy another device.
In the end, the Portal self-optimizing urban AC2400 WiFi router earns the Bigbruin.com "Highly Recommended" and "Good Value" awards.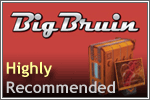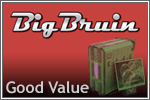 Pros:
» Unobtrusive design allows for easy placement in your home
» Excellent 5GHz coverage and very good 2.4GHz coverage
» Ability to create a mesh network
» Ability to use all bands normally reserved for radar
» Easy set up
» Great support
Cons:
» List of FastLane supported devices is currently very small
» Would prefer USB 3.0 ports
Please drop by the Bigbruin.com Forum and feel free to post any
comments or questions
.