In Use (continued):
App settings:
The Portal app is quite simple and opens to a network diagram as shown below. Selecting the menu from the top left brings up the My Networks. With the recent update this now allows you to add a new Portal router. I do not have another Portal to test this but I don't think this enables mesh networking. Based on their timeline this will be released in the coming weeks.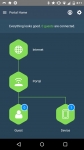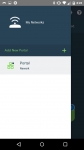 Selecting the Settings in the top right allows you to check for updates, restart the network, or remove yourself as the administrator of the router. Back at the Home screen each of the green locations is selectable. Picking the Internet tab will provide your WAN IP address. Selecting Portal will provide basic device settings. Here you can see your SSIDs, passwords, and enable/disable security. There is also a slider to see advanced settings. Here you see the operating channels, enable the web GUI, put the device in Bridge mode, and select the compatibility mode. With the recent update you now have a slider for merging the SSIDs.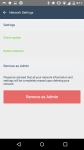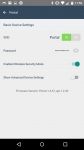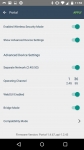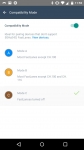 Tapping on Guest allows you to configure your guest network by selecting an SSID and password. It does not appear as if you have the option for separate 2.4 and 5GHz networks. This guest network also utilizes a rolling code to help keep your network secure. Back at the Home screen if you select Device you'd get a list of connected devices. The screen capture below is prior to them temporarily disabling this feature. According to the website this feature should be returning soon.