The Basics:
The next four images show the drive from a variety of angles. The body is made of plastic, with most of it being silver in color. A retractable "cap" made out of translucent grey plastic can be slid back to expose the USB 3.0 connector.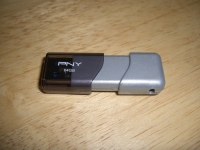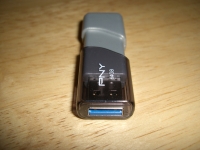 There is a hole on one end of the drive where a string or key chain could possibly be connected, but neither is included. The "cap" like cover for the USB connector is nice since it is connected and can not be lost, plus it has a clicking feature that lets you know when it is fully opened or closed. On the downside, this design does nothing to protect the electrical contacts of the USB 3.0 connector, so they are still exposed to dust and/or water, even with the cap in place.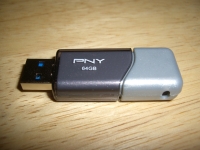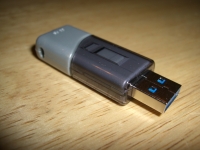 Testing:
To test the performance of the PNY Turbo 64GB USB 3.0 flash drive we will run it through a handful of synthetic benchmarks.
USB Flash Benchmark:
The USB Flash Benchmark was run first in order to provide a graphical overview of what the drive was capable of when reading/writing files of different sizes. What we see is that the write performance (represented by the red line) starts out higher than the adveristed speed (about 83MB/s max vs 60MB/s advertised), and that it quickly trails off as the file sizes drop below 4MB. The read performance (green line) starts out lower than the advertised speed (about 70MB/s max vs 95MB/s) but it stays there for a very large sampling of file sizes. The drive tested at about the same speed while reading files in the range of 16MB down to 16KB, which is pretty good since it is very consistent - but well short of the speed promised.