Packaging and Accessories:
The
Piper
Computer Kit comes packed in a colorful retail box that houses all of the needed items in a very organized manner. Considering the number of pieces required to build this kit, and the amount of time you will be investing, I definitely appreciate how much time they put into organizing, labelling, and documenting the whole thing!


From left to right in the images below we see the front of the box, the back of the box, and the heavy duty inner box that should serve well to keep all of the components safe while being shipped to you and while the box is being carried around by the included handle.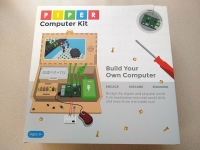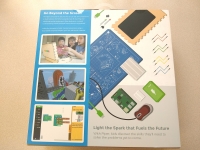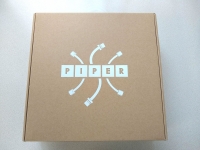 When you open the box you find a stack of documentation (including the large blueprint) at the top, and then you see smaller compartments with the Raspberry Pi board, a screwdriver (the only tool you will need), and the bright green 7800mAh battery pack. Lifting up all of the literature reveals the 9" LCD screen which is pre-mounted in a wood frame that has perforations for the speaker you will install later. Under the screen you will find all of the well labeled pieces of pre-cut wood which will be used to assembly the computer's enclosure.