It has been close to two and a half years since our
most recent review
of a
Patriot Memory
product, but to be honest, not a whole lot has changed. The common capacities of DDR3 memory kits have surged well past what that 2GB kit offered, but low latency 1600MHz modules would still be a great choice for today's modern systems. That said, for this review we're going to take a look at a kit rated for an even higher speed, but with more relaxed timings.
The promotional image below provides a quick look at the Patriot Memory Viper II Sector 7 6GB triple channel kit, which boasts a speed of 1800MHz and 9-9-9-27 timings. The aggressively styled heatspreader and the elevated speeds are obviously intended to appeal to the computer enthusiast who wants to overclock their system without having to worry about their memory being able to keep up.


Before taking a closer look at the triple channel kit provided for review, let's look at some published information on it, as taken from the
official product page
on the Patriot Memory website and from
Newegg.com
.
Features and Specifications:
» Extreme Performance PC3-14400 (1800MHz)
» Type: 240-Pin DDR3 SDRAM
» Enhanced Latency: 9-9-9-27
» Voltage: 1.65V
» Capacity: 6GB (3 x 2GB)
» XMP Ready
» Equipped with lightweight aluminum heat-dispersing shields
» 100% Tested and Verified
» Tested on Intel X58 chipset 2/ Intel Core i7 CPUs
» Warranty: Lifetime limited on parts and labor
Packaging:
The Viper II Sector 7 1800MHz 6GB DDR3 kit is sold in the packaging shown below. The slim cardboard box is just slightly larger than the three memory modules found inside. The front of the box provides a large image of what Viper II Sector 7 style modules look like, while a small sticker provides details specific to the kit found inside. On the back we find some information regarding Patriot Memory, and how to contact their free product support.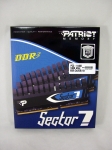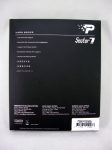 Inside the cardboard box is a clear plastic case, which might be suitable packaging all by itself. The front of the case features information and images similar to what was found on the box, while looking at the back of the case gives a clear view of the included memory modules.