Patriot Memory
has been in business for almost 30 years, focusing on developing the best memory possible. With offices across the globe they are able to respond to any change in memory standards. Their product lineup includes standard desktop and laptop memory, USB flash drives, flsh memory, and Solid State Drives.
This review will focus on an SDHC (Secure Digital High Capacity) card from Patriot Memory. This card can be used like any other SDHC card, but it also includes software that allows the user to automatically back up their data. The Patriot Duplicator SDHC card is available in 8GB, 16GB and 32GB sizes, and we will be taking a look at the 16GB version.


Patriot states that the included software allows the user to automatically back-up their data with a few basic options. One of the biggest drawbacks to backing up data can be the confusing process, and as a result too many users just do not do it. The easier the process, the more likely a user will be to use it. To further simplify things, Patriot's back up software requires no installation.
Published Information:
The Patriot Duplicator is a Secure Digital High Capacity (SDHC) flash memory card with easy-to-use, sophisticated auto-backup software. Just insert the SD card in the netbook, laptop or PC and choose a few basic options in the easy-to-use set-up process. Instantly start backing up valuable data such as photos, presentations, videos, music and more. Best of all, Patriot Duplicator requires no installation on the laptop or PC; it runs exclusively from the SDHC card. Never worry about losing data due to hard drive failures. Patriot Duplicator has you covered.
» Available in 8GB, 16GB and 32GB capacities
» Live Backup continuously backs up your files.
» Backup several PCs with Multiple Profiles
» Travel in time thanks to Versioning
» Control backups by files types, size and date
» Restore lost data in one click
» Mac and Windows Compatible
» 5-Year Warranty
» Duplicator application is locked and works only from the Patriot Memory Duplicator SDHC card.
Packaging:
The Patriot Duplicator comes in standard retail packaging, and if you have ever purchased any flash memory from a retail store you have seen something like this. It is more than sufficient to protect the SDHC card from damage. The front of the package presents you with a full view of the SDHC card, along with the size and model.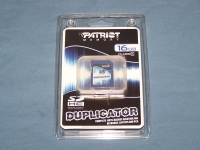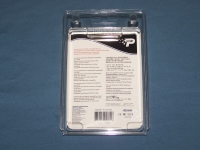 Usually the back of the packaging presents the user with more detailed information. However, the back of the Duplicator packaging gives very little information, but it repeats it in eleven different languages. What I would like to see is some detailed information such as the speed of the SDHC, backing up 16GB of data could take a long time on a slow card.