External Examination:
With the
Patriot Memory
Corza removed from the packaging we can move in for a closer look.


The front is fairly plain, with a section of the front bezel being constructed of metal mesh in order to allow for some air flow. The bottom half of the front bezel is taken up by the two hot-swappable SATA hard drive trays. The picture on the right shows what both of the sides looks like... Nothing too flashy, just solid black with the Patriot logo printed in light gray.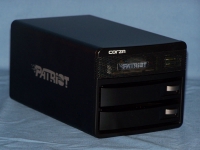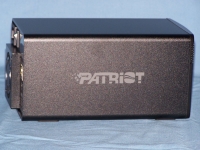 On the back panel we find the critical external connections. In the upper left corner is a standard computer power connector. This is a plus, as I really hate having to use a power brick or one of the little round plugs. Using a standard computer power connector means you can easily replace the cable if it gets misplaced. To the right of the power connector is a power switch. On the right half of the back panel we find the Gigabit LAN connector and a USB connector. Patriot has also included a Kensington lock port. This is a nice addition, especially if you take the Corza to a LAN party or other such event. The lower left corner features a small exhaust fan which is necessary to help keep your drives cool.