Conclusion:
The
ASUS
name has always been synonymous with quality and performance, and the Sabertooth P67 motherboard certainly doesn't disappoint. We actually got a better overclock from it than the Maximus IV Extreme we looked at previously. Not that we put all that much effort into either overclock, but getting an extra 1GHz out of the Sabertooth P67 with minimal effort was also impressive.
The Sabertooth P67 comes with all the bells and whistles you'd expect from a board in this price range. While it doesn't feature any active cooling like other P67 boards, the Thermal Armor does a good job at dissipating heat so that overclocking isn't an issue - although the inclusion of a fan should the consumer choose to add one would be nice. Even though it also lacks extras like Bluetooth and more USB 3.0 ports like it's Maximus sibling, it also doesn't carry the same $300+ price tag.


A check of the
Bigbruin.com shopping pages
shows that the ASUS Sabertooth P67 is available for under $200 (US) from many fine online retailers such as Amazon.com.
Considering the features, aesthetics, performance, and ease of overclocking we give the ASUS Sabertooth P67 Socket 1155 ATX motherboard the Bigbruin.com "Recommended" and "Gaming Approved" awards.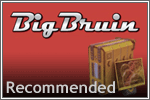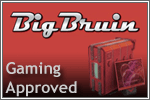 Pros:
» Pretty good overclocker
» Good bang for the buck
» Tons of features
» Innovative and effective cooling design
Cons:
» No active cooling included (recommended option for water cooled or passively cooled systems)
» Priced in the higher end of P67 boards
» Only 2 external USB 3.0 ports
Please drop by the Bigbruin.com Forum and feel free to post any
comments or questions
.