Configuration:
The
OCZ Technology
50GB Vertex 2 solid state drive was tested in a system with the following other components:
» Intel Core i7-920 quad-core processor
» ASUS P6X58D-E LGA 1366 Intel X58 motherboard
» Cooler Master Z600 heatpipe CPU cooler
» Seagate Barracuda XT 2TB SATA 6Gbps hard drive (boot drive)
» Crucial Ballistix Tracer 6GB DDR3-1600 memory kit
» Sapphire Vapor-X Radeon HD5870 1GB graphics card
» Nesteq EECS 700 Watt modular power supply


The screenshot below was created from CrystalDiskInfo 3.5.6 to show the basics regarding the 50GB Vertex 2. We get confirmation of things like the capacity, that TRIM is supported, and that it uses a SATA 300 (3Gbps) transfer mode. With Crucial now offering a SATA 6Gbps solid state drive, it has me wondering how the Vertex 2 might benefit if it could also move up to the latest technology.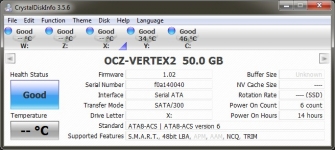 Testing:
All benchmarks were run on the system with the specifications listed above, and the benchmark applications were launched from the 2TB Seagate drive listed.
The testing portion of the review will have the 50GB Vertex 2 solid state drive matched up against two other SSDs and Seagate's new solid state / hard drive hybrid.
» Super Talent UltraDrive 32GB FTM32GX25H SSD [
at eWiz.com
]
» OCZ Technology 60GB Agility solid state drive [
review link
]
» Seagate 500GB Momentus XT hybrid drive [
review link
]
The benchmarks to be executed on the four drives were pulled from the following four pre-packaged applications.
» PassMark Performance Test 7.0 Advanced Disk Test
» PCMark Vantage x64
» ATTO Disk Benchmark v2.41
» AS SSD Benchmark 1.4.3704.27281
Various tests from each of these titles were executed on each drive, and where possible to system was rebooted between each test. In addition, the drives were formatted before moving from one benchmark title to the next.
Results for the Seagate Momentus XT drive are average values taken after five consecutive runs (intended to allow the hybrid drive to learn what to prioritize in the flash memory component.