Conclusion:
Even though this was our first test of a solid state drive featuring a SandForce controller, our expectations were high given the buzz seen elsewhere on the web.
OCZ Technology
's 50GB Vertex 2 featuring an optimized SandForce SF-1200 controller did not let us down. Testing presented results close to the published specification of 285MB/s for the maximum read speed and 275MB/s for the maximum write speed, and well ahead of what our other drives were capable of. How can you complain about that?


In addition to the high performance, the higher than usual amount of over-provisioned space will also provided for better wear leveling in order to extend the life of the product. But, in the end you have purchased a 64GB drive with less than 50GB of space available to use.
With a price of
$179 (with free shipping) at Newegg.com
before a $10 mail-in-rebate brings the total down to $169, the price for this 50GB drive isn't cheap. That works out to $3.38 per Gigabyte, which is on the high side compared to other drives with various specifications. The OCZ Technology Agility 60GB drive used in this review might run you about $2/GB, while the 500GB Seagate Momentus XT will set you back about $0.26/GB (yes, about a quarter per Gigabyte). That said, when you compare the 50GB Vertex 2 to other SandForce SF-1200 series SSDs with similar capacities, the price is rather competitive.
Considering the different approach that SandForce has taken with their controller, some synthetic tests may provide results that aren't all that appealing when compared to other drives rated with lower read/write speeds. Once you get passed this and see the real world performance of the drive, the only possible negatives have to be related to the elevated price per GB.
The bottom line is that the OCZ Technology 50GB Vertex 2 solid state drive is blazing fast and well worth considering for a high performance laptop, or as the boot drive in a desktop system. It therefore has to earn the Bigbruin.com "Highly Recommended" award.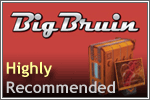 Pros:
» Real world performance is very impressive
» Custom firmware developed to optimize performance
» 28% over-provisioning is good for performance and longevity
» TRIM support
» 3-year warranty
» Competitively priced when compared to similar SandForce based SSDs
» 50GB seems like a better capacity for a boot drive than many of the lower choices
Cons:
» Paying for capacity you won't use thanks to the generous over-provisioning
» Looking only at select benchmarks may show disappointing results
» High price per Gigabyte
Please drop by the Bigbruin.com Forum and feel free to post any
comments or questions
.