The Basics:
The three modules from this 6GB triple channel kit are shown in the next set of images. The appearance is a bit different from your typical memory module thanks in part to the unique Blade series heatspreader.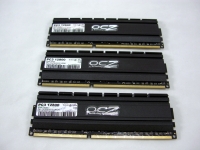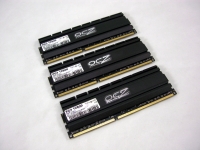 Each module features a black PCB covered by a thick black aluminum heatspreader emblazoned with a glossy OCZ Technology logo in the middle. A data label to the left of the logo provides a big bar code, as well as human readable data like model number, speed, timings, voltage, and capacity.


The heatspreader is interesting. Not only does it make the modules look good, it has a few other selling points worth checking out. While many modules have gotten too tall thanks to large fins mounted to the top, here we have a rather low profile ridge of fins that should help dissipate some heat, without interfering with CPU coolers or other system components. Also, the metal used is more substantial than the typical flimsy sheet of aluminum you might see, and instead of being held together with clips, these are bolted together. The industrial toughness adds to the good looks, but hints that better contact may be made with each chip and that heat transfer should be pretty good.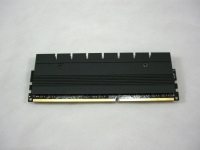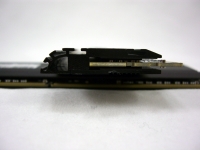 The above right image shows an end view of one of the modules. You can appreciate just how thick the aluminum is, as well as getting a look at the amount of surface area found in the compact fins up top. Overall, the design is rather impressive and will hopefully be matched by the performance.