It has been a while since there has been a review of system memory here at Bigbruin.com, and I don't really know why. The
last review
was in December 2008 and happened to be of a 2000MHz kit of dual channel DDR3 memory from
OCZ Technology
. Fast forward close to six months and we're back in business with some new system memory, and it just happens to be yet another kit from our friends at OCZ Technology.
A good deal has happened to the DDR3 landscape, and triple channel kits are now the hot topic. The product provided for review, and shown in the promotional image below, is a 6GB kit (3x 2GB modules) from OCZ Technology's Blade series, which they describe as being "the latest maximum-performance RAM designed specifically for the Intel Core i7 processor / Intel X58 Express Chipset".


Before taking a closer look at the kit provided for review, let's take a look at the features and specifications for the 6GB PC3-12800 Blade triple channel memory kit taken from
the official product page
on the OCZ Technology website.
Features and Specifications:
» 1600MHz DDR3
» CL 6-6-6-24
» Available in 6GB (3x2048) Triple Channel Optimized Kits
» Unbuffered
» 1.65 Volts
» 240 Pin DIMM
» Pure Aluminum Heatsink
» OCZ Lifetime Warranty
Packaging:
The packaging for the OCZ Technology 6GB PC3-12800 Blade triple channel memory kit isn't overly exciting, but it is a bit different than the plastic cases you may have gotten used to over the years. They bundled the three memory modules in a cardboard box about the size that video games are sold in. You get a look at two of the modules through windows on the front panel, and around back there is some general information on the memory and OCZ Technology.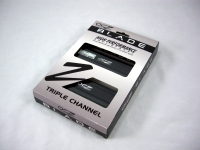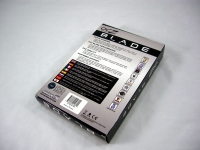 Inside the box we see that a pair of modules have been bundled in a clear plastic case like you might expect to see if they were a 4GB dual channel kit. Then one more memory module is found sealed in its own plastic case; all alone waiting to break out and play with the other two!