Conclusion:
I found the
OCZ Technology
Behemoth laser gaming mouse to not only respond well, but it also performed great on many different surface types thanks to its double laser engine. Most importantly, while conducting the testing my hand was very comfortable and relaxed. Toss in the facts that the Behemoth looks great, is sturdy and well constructed, and you have a winning combination.


A quick search finds the OCZ Technology Behemoth laser gaming mouse available at a variety of popular online stores for an average of about $25 (US). While
Mwave.com
offers it for a low $22,
Newegg.com
offers it for $30 (but with free shipping). The price is definitely right, and adds to the appeal of the Behemoth.
With the many companies currently producing gaming mice, it is nice to know there are a few doing it correctly. OCZ Technology continues its great track record of computer hardware with the Behemoth and because of that I can now retire my Wolfking MVP. The OCZ Technology Behemoth laser gaming mouse is most definitely "Gaming Approved" and "Highly Recommended".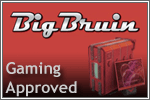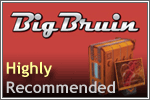 Pros:
» Extremely comfortable
» Profiles saved directly to the mouse
» Highly customizable
» Adjustable weight system
» Software is easy to use
» Priced at around $25
Cons:
» Has a cord attached
» Cord is a bit stiff
Please drop by the Bigbruin.com Forum and feel free to post any
comments or questions
.