Customization:
The
OCZ Technology
Behemoth laser gaming mouse boasts extensive customization abilities and with plenty of tricked out mice on the market it will have to go far to impress.


As we touched on before, the disc included does not contain a special driver but instead has customization software. OCZ Technology has included memory onboard the Behemoth which allows you to save up to three customized profiles directly to the mouse itself. Once your profiles are set, you can use them on any system without any setup. You can switch through the saved profiles via a small button on the bottom of the mouse. LEDs illuminate the left side of the mouse to let you know which profile you are in.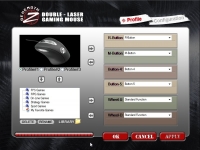 Where many gaming mice allow for multiple DPI settings, OCZ Technology takes it a step further by letting you pick what each DPI setting is. You can choose from a staggering 100DPI all the way up to 3200DPI. Even the USB report rate is adjustable with ranges of 125Hz to 1000Hz.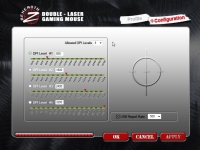 To expand on the DPI setting you can further personalize your Behemoth by adjusting the weight. The Behemoth comes with five 4.5g removable weights to help get the exact feel you want from your mouse. From the image below you can also see the cable routing options located at the top of the mouse. The Behemoth uses a sleeved cable which is a little stiff in my opinion, but looks great.