Conclusion:
The
OCZ Technology
60GB Agility solid state drive offers impressive performance in both read and write testing. It came close to achieving its rated sequential read speed of 230MB/s in each benchmark, but what was particularly impressive was that it consistently exceeded its rated sequential write speed of 135MB/s.
Read speeds are generally what SSD manufacturers focus on, and for the sake of keeping the price down the write speeds may be allowed to suffer a bit. Not so with this drive. While OCZ Technology only promises 135MB/s, each benchmark indicated that this was a conservative value, and Lavalys' Everest showed the drive performing over 40MB/s better than the rated value.


In real world usage the drive performed well, too. Windows 7 boot times were very quick, and there was never any stuttering or other issues. On the downside there isn't much to say... While some may wish for some sort of upgrade kit to make an installation/upgrade with this drive easier, excluding these extras obviously saves money.
A search of the web finds the 60GB Agility for sale at most popular online tech stores for about $220 (US), which is generally after a $20 rebate.
Newegg.com
has it for $229 after rebate with free shipping, while
Zipzoomfly.com
has it for $205 after rebate and also with free shipping. It is rare, but Newegg.com doesn't have the best price on this product, and the Zipzoomfly.com price makes this drive competitive and appealing when compared to similar drives.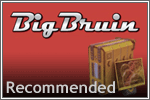 Pros:
» Strong read and write performance
» Write performance actually exceeds the published specifications
» Quick access times
» Blend of strong performance and competitive pricing
Cons:
» No goodies included to aid in the installation/upgrade process
» "Competitive pricing" still means over $200 for 60GB of storage
Please drop by the Bigbruin.com Forum and feel free to post any
comments or questions
.