Testing (continued):
HD Tune Pro 3.50:
HD Tune
provides a quick assessment of the performance of any hard drive or SSD. Higher results are better for average, minimum, maximum, and burst speeds (all in MB/s), while lower scores are better for access time (in ms).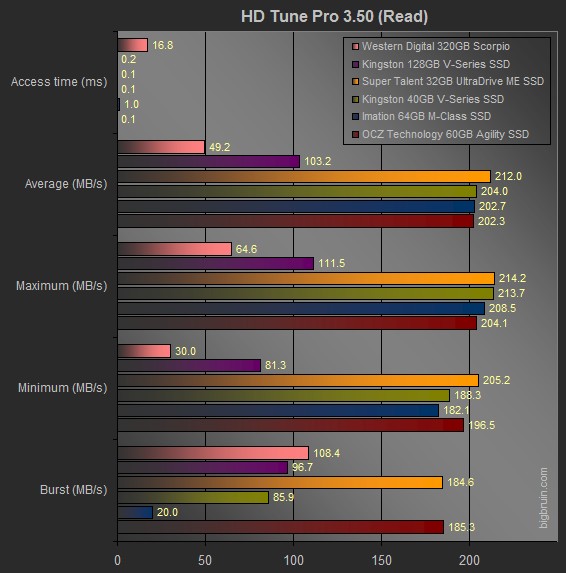 Here we see the Agility put up consistent results, although they are a bit off from the values that some of the other drives could put up.
Windows 7 Pro Boot Time:
The final test was to use an installation of Windows 7 Pro cloned on to each drive in order to see how quickly the laptop system described previously would boot. Each system was booted twice prior to testing to make sure Windows could identify each drive properly and to install any necessary drivers. After this, the system was powered up three times, timed using a stop watch, and then an average time was recorded. The stop watch was started as soon as the power button was pressed to turn the system on, and it was stopped as soon as the swirly graphic disappeared from the mouse pointer on the Windows desktop. This measurement of boot time does include the BIOS post time, which obviously adds the same amount of time to each round of tests.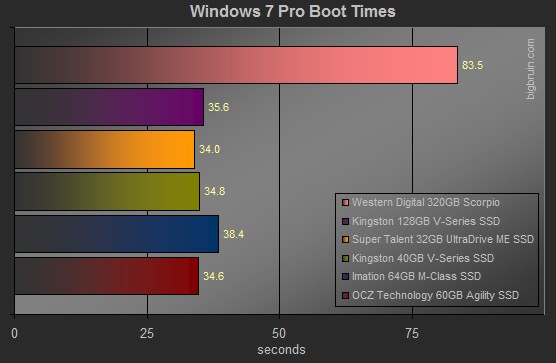 All of the SSDs allowed the system to boot up rather quickly, and the difference from one drive to another was trivial. But, the OCZ Technology Agility drive was able to put up the second best average score, just missing first place by six tenths of a second.