In Use (continued):
While many of the button functions are detailed in the manual, I found a useful function that doesn't seem to be documented, and reviews I have read at online stores indicate that others would like to find it, too. By pressing and holding the mode button, the display lighting can be turned off, so you can continue using the device without lighting up a darkened room. This could be good for people with their computer in their bedroom.
I tested the high temperature alarm and was surprised by its performance. After forcing one temperature to go above its set point, the alarm immediately came on and the value on the screen started flashing. The audible portion was fairly quiet, but would definitely get noticed if you were in the same room. Another feature that might make detecting an alarm situation difficult is that the audible portion stopped after just a few seconds, and only the flashing value on the screen remained to let you know you exceeded a set point. I maintained this excess temperature for several minutes thinking the alarm might cycle on and off, but after that initial few seconds worth of beeping, it never came back on.
The final comment is that on occasion the display is slow to address changes made to fan speed. It seemed that with some fans I would press the button and nothing would happen, so I would press again (perhaps a few times). All of a sudden the fan may catch up and go to 0RPM due to the number of presses, while I thought it hadn't received any signal. It is important to be patient, and to also verify the fan speed a few seconds after making any changes. This way you can make corrections in case you missed the mark you were shooting for.


Conclusion:
The
NZXT
Sentry LX fan controller is a capable device that makes controlling and monitoring up to five fans and temperatures rather convenient. The display is well laid out and easy to read (from the right angles), and taking control of each fan is quite simple.
While it made a very good overall impression, there are a few things that could use some refinement. The viewing angle winds up being rather limited, and if you are looking down toward your system to see the screen you may wind up with a blur where you expect to see speeds, temperatures, and/or the time of day. In addition, the reset button should be repositioned or redesigned in order to avoid accidental erasure of all settings, something I have managed to do twice already. And finally, the use of hot melt glue to keep the wires on the headers around back isn't a very good idea, especially since it didn't work and wires came loose during testing anyway.
Searching the Internet finds the Sentry LX available for sale at a variety of online retailers, including
Newegg.com
, where the price is $59.99 (US). That seems like a lot of money for a fan controller, and by the time I have paid for tax and shipping the total surges to over $70.
While the NZXT Sentry LX could use a few refinements, it is still a great product. If you are in the market for a fan controller and you can find a good deal on this one, I would definitely consider it to be "Recommended".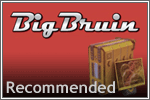 Pros:
» Fan control in 100RPM increments
» Attractively styled
» Easy to read display
» Effective fan control
» Easy to operate
Cons:
» High price to pay for fan control
» Connectors are hot melt glued in place, and some worked themselves loose
» Limited viewing angle from above or below
» Reset button is too easy to press by accident
» Audible alarm is fairly quiet and stops after a few seconds
Please drop by the Bigbruin.com Forum and feel free to post any
comments or questions
.