The Basics (continued):
The next set of images takes a look around back. In the below left image we see the device as it arrived... With all the well labeled leads bundled together and pre-connected to the appropriate headers. The PCB in the Sentry LX is blue, and the various components are rather neatly arranged. The below right image shows the bundle of wires pulled out of sight, providing a better look at the PCB.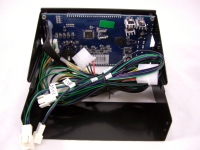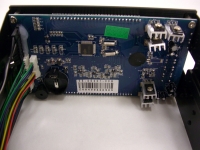 Of interest is that the connections are all hot melt glued into place, which seemed odd to me. I understood why when I noticed that one set of wires had pulled loose despite the glue, and the interface between the wires and headers doesn't seem to fit together well. Glue may be a good quick fix, but doesn't seem like a professional solution, especially since it didn't work! Other things worth noting include the small alarm speaker near the bottom, the socket for the watch battery which I initially put in backward, and the five aluminum heatsinks attached to the resistors used to control each fan's speed.


The final image in this section takes a look at the wires themselves. Each of the five fan leads and temperature probes are well labeled to correspond to the appropriate data on the display. The device is powered from a 4-pin Molex plug, and a pass-through header is provided so you don't lose any connections.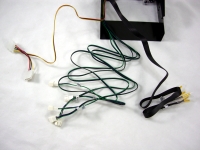 Overall the design and build quality seem high, and other than the hot melt glue used to hold the wires in place, I was rather impressed.