Conclusion:
I have always been impressed with the ingenuity and elegance behind
NZXT
products, and the Sentry 2 fan control panel does not disappoint. With such a simple design, and an equally simple user interface, the Sentry 2 can add much needed functionality to just about any PC, while also giving it a more futuristic feel.


The only potential issue with the Sentry 2 is that the manual is not particularly useful. It provided little information about the installation, and none about the day-to-day use. While many users should be able to figure it out quickly in their own, documenting the basic steps would be a good move on NZXT's part.
Searching the web finds that the NZXT Sentry 2 has a rather economical price tag... Just $30 at places like
Newegg.com
. Considering the features and styling, the price makes the Sentry 2 even more appealing.
Because of the added value at such a low cost. the NZXT Sentry 2 fan control panel deserves the Bigbruin.com "Highly Recommended" and "Good Value" awards.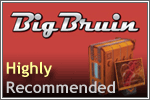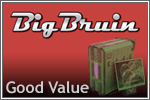 Pros:
» Can add a good deal of functionality to about any PC
» Control up to 5 fans
» Monitor up to 5 temperatures
» Looks great
» Low cost
Cons:
» Manual isn't very useful
» Cable management could take some time
Please drop by the Bigbruin.com Forum and feel free to post any
comments or questions
.