Conclusion:
While I was not able to test this device with something like the MacBook Pro, I have little doubt this charger is capable. I like that the AC power cord is a standard plug and doesn't block your other outlet like some OEM chargers can. This makes it very useful as many of us have multiple devices and like to charge them in the same spot, and in fact this device can charge two at the same time.


Despite the overall positive experience, the current price of $49 might be a little steep for those just looking to charge a couple of phones. Typically a quality USB C charger could be had for about half that price. But if you have one of the many ultra portable laptops listed, this would be a great investment. Not only would you be able to power your laptop, but you could also charge your phone at the same time. I can see this being a huge advantage for the frequent traveler; you could leave this in your travel bag and always be sure your laptop and phone will be ready to go.
In the end, the
NewerTech
NuPower 60W USB-C power adapter earns the Bigbruin.com "Recommended" award.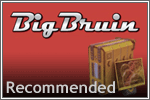 Pros:
» Bested OEM chargers on both Type-C and Type-A ports
» Nice build quality
» 1 year warranty
» Ability to charge two devices at once
Cons:
» Price is a little high
Please drop by the Bigbruin.com Forum and feel free to post any
comments or questions
.