In Use (continued):
In one section of the settings you can pick from one of five room types that the Touchpoint is in... I didn't really like this since I wasn't using any of these rooms, but in a different step you can type the name of the room you want, which is used on the display and in the app. So, I picked living room, and then later (with the app) typed in play area. One interesting feature is that you can monitor energy consumption and calculate how much money you have spent on electricity, if you tell the device what you pay per kWh. This is cool and all, but it is just monitoring one light fixture in the house, where I probably have dozens, and plenty of other higher draw items (HVAC, well pump, computers, TVs, etc). And you can choose to have a digital or analog clock... I went digital as it was much easier to get the time with a quick glance.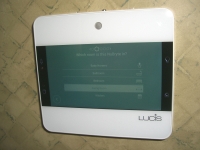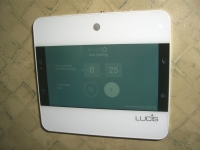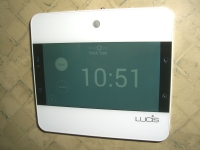 The left image below shows a summary of the device's firmware level, etc, and also leads to some useful tips for using the device. in the middle we see some of the instructions for setting events... You can create an event on the mobile app, and then when time the is right the notice will be shown on the Touchpoint. You can also set the style of light controller to be a touch on/off, a rotary dimmer, or a slide dimmer.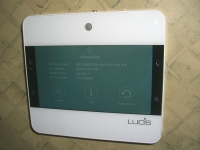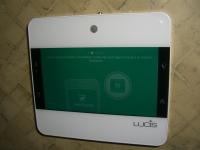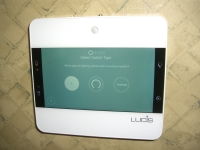 Moving out of the settings area a bit, we will look at how detailed the weather information is! We saw the main climate screen already where you can see current indoor and outdoor conditions, and one additional click will give you the 24 hour forecast shown below. You can scroll up/down to see an hourly forecast, which is definitely pretty nice. And going beyond 24 hours, you can also get a five day forecast (middle image) which looks pretty accurate to me. We set up the power monitoring feature earlier, and the screen below is where you can see a report on your consumption... With just 4x 9W LED bulbs connected, the information in this section is not going to get very exciting for me.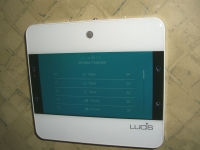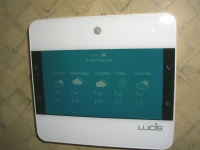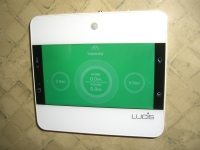 The below left image details a section of the installation that bugged me just a bit... You tell the device what type of bulbs you have, and it asks you to check off if you are using dimmable bulbs. I said no, since the four LEDs I have connected are not dimmable. When I powered on the light for the first time I heard a buzz that I know from experience means that a non-dimmable bulb is on a dimmer. I know the Touchpoint has a dimmer, but I thought since it asked me if my bulbs were dimmable that it might have a smart feature built-in to disable the internal dimmer and just give the bulbs 120V. I messed with this for a while and then looked in the online documentation where I found that all connected bulbs must be dimmable, even if you don't want to be able to dim them. The setting in the Touchpoint merely deactivates the dimmer controls and leaves you with simple on/off controls. There are plenty of lighting options built in, including vacation mode, a night light, motion sensing activation, and as seen in the below right image you can have the lights blink to indicate an alert.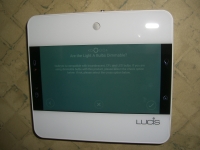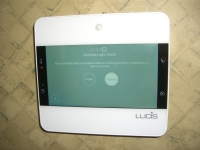 Finally, we get to the security feature. Like a home alarm system you can activate the system and you have a set time to leave, the default time is 60 seconds, and as seen below I have 54 seconds left to get out of view or hit the X to cancel. I hid from the panel in another room, but when it hit zero the alarm started going off instantly. There is supposed to be a lower volume "grace period" where you can disable the alarm, just like a traditional home alarm, but it skipped that and went right to full volume. I tried a few more times, but the result was the same each time... full volume alarming when it reached zero on its countdown that continued until I typed in my security pin. I was starting to get a headache after several tries and just didn't want to revisit this test again. It couldn't have been sensing motion, but even if it was, where was my low volume grace period?