Conclusion:
The
Novostella
20W RGBCW smart LED flood lights are a big hit at my house, as I like being able to program (white) lights to come on at night, and the kids like turning it into a rainbow swirled party simply by speaking to Google. The lights are vibrant and very bright and having the Smart Life app sync their controls is working very well. As mentioned, it has been a very cold and snowy winter so far, and these lights add for an extra touch of fun in the snow as we snow tube into the night.
Speaking of the snow, one light fell down into it for a couple days before I could go get it back out, and I was happy to see that now water had gotten into the housing. They have an ingress protection rating of IP66, which means they are completely protected against dust getting and are protected against water penetration from high powered jets of water. Not quite completely waterproof, but they should be good for the hardest driving rain and water streaming off of your roof. Not necessarily impervious to water if left soaking in it, but a few days soaking in snow did not damage them.


As mentioned earlier, these sell for about $70 a pair at
Amazon
, which I find is a fair price, especially when compared to other comparable smart LED flood lights. If that still seems like too much, I have seen a discount code pop up on the Amazon listing (not there as of the review date) that will knock the price down quite a bit. While I feel this pair of 20W bulbs is plenty bright and lights up my house nicely, you can really go big and select either their 2-pack of 60W lights for $130, or their single 100W light for $110. Taking the lights covered in this review and magnifying the output by 3-5x just sounds fun, and like I would need to open a ski slope or outdoor rave!
The Novostella 20W RGBCW smart LED flood lights earn the Bigbruin.com "Recommended" award for their performance, brightness, color vibrancy, and fun factor!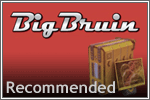 Pros:
» Very bright and vibrant colors
» Tunable to white levels between 2700k and 6500k
» Easily controllable via the Smart Life app and Google Assistant
» Priced competitively with other similar smart LED floodlights
» Slick design with patented water resistant external WiFi antenna for improved range
Cons:
» If $70 is more than you want to spend, be patient as I have seen discounts on the Amazon listings pop up on occasion
Please drop by the Bigbruin.com Forum and feel free to post any
comments or questions
.