In Use:
I already had the Smart Life app installed on my phone, as it is connecting close to a dozen WiFi Novostella bulbs, and a few other brands of WiFi LED light strips. With that installed on either your Android or Apple device you are ready to start adding your new lights. The instructions included with the Bluetooth hub were printed very small, and didn't seem so intuitive to me, but the installation process was incredibly easy. With the hub plugged in and in fairly close proximity to my phone, I opened the Smart Life and it immediately suggest that I had a device to add - a gateway whose icon looked just like the Novostella hub, so I followed the steps to add it. Once complete I had a page with tabs that confirmed the various details of the gateway, and back on its main page I found an empty field since no devices had been added yet.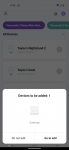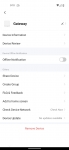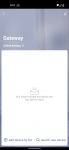 Adding the lights to the gateway is also very easy, and basically you just want to turn them on one at a time and let the gateway discover them. Plugging the lights in for the first time put them in a pairing mode confirmed by the lights blinking until the pairing process was complete. With each of the four lights added I was able to control them all individually, or in groups - with the groups able to include just these Bluetooth connected lights as well as being able to included other Smart Life connected lights.
The images below show that the bulk of the typical features for an RGBCW light are available, such as white mode, color mode, a few preprogrammed scenes, and music mode, where the lights will respond to music detected by your phone.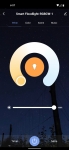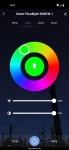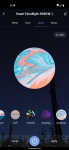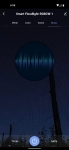 The lights all functioned great, with very quick response times to commands. I have yet to install them outside, but in some extensive testing I have found that they work better than the bulbs that individually connect to the network via WIFi in one key way. I have made groups of WIFI lights and had that group all function following the same scene. What I find is that after a while, the lights get out of sync and no longer change colors in unison, and as time goes on they can become more and more out of sync. I have left this set of four bulbs on for hours and they stay together through scenes, which just makes the effect that much more enjoyable. I have to assume the hub is doing the processing and it is keeping the lights together, as opposed to each light doing its own processing.
The video clip below shows the lights running through a variety of functions, including white level change / dimming, running through a bunch of colors together, triggering a few scenes, and eventually being powered off one at a time.
Its a short clip, but it does show that when triggered from my phone that all changes happen simultaneously on the 4 lights.