Conclusion:
The
Novostella
A19 13W RGBCW smart light bulb does all the things you would expect from a product like this, but it takes some of those features to a higher level than the typical smart bulb. While most smart bulbs are rated for 60W or 75W (equivalent ouput), this one is rated for 120W equivalent (13W actual) and they claim it puts out 1300LM of light. I believe the claims, as it is much brighter than my other smart bulbs while producing white light, and when you switch to RGB mode, the light output remains impressively bright. So many smart bulbs do well with white light, but their not so impressive with their colored light output. The Novostella A19 bulb is very bright, and while I have thrown two or three smart bulbs at a room to make it look nice in a "darker" color like red, just one of these bulbs can give me the same lighting effect.
The bulbs paired easily with the Smart Life app and I have had control of all the features for several weeks, with no issues. I am also using Google Home to access these bulbs, and voice commands have also worked quickly and without issues to toggle them on/off, and to set colors and the brightness. While typically used in white mode, they are actually an upgrade to the bulbs they replaced, as the light output is higher and tunable to the warmth I prefer.


Amazon.com currently offers these for
$25.99 (US) each
, which is more expensive than many similar bulbs on their site. While some do cost about that much, you can find a variety of similar 120W equivalent bulbs for several dollars less. While not comparing apples to apples, I recently got a few
75W Merkury brand smart bulbs
from Wal-Mart for under $5 each. They're definitely not as bright and are physically much larger, but if that is acceptable to you, you could get five of them for the price of one of the bulbs reviewed.
While a bit pricey, the Novostella A19 13W RGBCW smart light bulb is impressive for its features, light output, and responsiveness. It earns the Bigbruin.com "Recommended" award, and is definitely one of my favorite smart bulbs!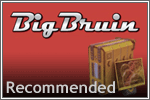 Pros:
» Much brighter white lighting than typical smart bulb (rated at 1300LM)
» White lighting can be tuned from 2700K-6500K
» Vibrant and brightly colored lighting
» Easily app controllable, or via Google Home or Alexa
» Much more compact than LED bulbs with similar light output
Cons:
» More expensive than many other smart bulbs
» If you like your electrical equipment certified, this does not have anything like UL or ETL designated.
Please drop by the Bigbruin.com Forum and feel free to post any
comments or questions
.